Monthly Gift One-Time Donation Donate to FIST Donate to GGT
Making a monthly donation is simple and helps to ensure the sustainability of LICADD's Programs and Services. Your support can save a life.
Check donations can be sent to:
LICADD
c/o Development Department
1025 Old Country Rd., Suite 221
Westbury, NY 11590
Other Ways to Give
Planned Giving ⁠-⁠ Leaving Your Legacy
Through LICADD's planned giving department, you have a powerful opportunity to ensure that your most important values and commitments are part of the legacy you will leave behind as an example to future generations. Since planned gifts generally come from the accumulated assets of our lifetime, it is an opportunity to make a final statement of support for a cause near to your heart. Planned gifts also ensure that LICADD will have the resources needed to continue its mission for many years to come.
Over the past several years, LICADD has been able to heighten awareness about addiction and the epidemic facing Long Island. In response to this epidemic, LICADD has continued to lobby for better legislation, increase the number of support groups, promote the use of Open Arms EAP, crusade for prevention through education and help individuals who suffer with addiction.

LICADD's good work has been made possible through private donations made very generously by friends, and family members who were robbed of their loved one by the disease of addiction.
The Legacy of Caring is a very special giving opportunity, which creates a partnership between the donor and LICADD. It enables you to leave a lasting gift through a bequest provision in your will that will touch the lives of many families well into the future.
Planned giving does not have to be complicated and it is not only reserved for those with great wealth. It can be as simple as adding LICADD as a beneficiary in your will as a bequest.
Follow the link to learn about available gift options. If you would like us to help you talk them through, call Rosanne Slattery 516-747-2606 or rslattery@licadd.org.
Third Party Fundraising
Thank you for helping LICADD expand its fundraising efforts by working with the community to hold a third party fundraising event in support of our programs.
When planning a LICADD event please keep the following ground rules in mind:
A Third Party LICADD fundraising event must…
Have a signed third Party Fundraising Contract that has been reviewed and authorized by the Executive Director
Provide revenue in support LICADD's programs and services
Promote LICADD's mission
Represent the values of the agency
Be held in an appropriate and safe venue
A Third Party LICADD fundraising event must NOT…
Promote the use of alcohol, tobacco or other drugs
Provide gaming opportunities
Utilize the LICADD name or logo without explicit authorization
LICADD Checklist
Does LICADD have all of the following information from the host/event organizer?
A signed third Party Fundraiser Contract
Does the event host/organizer fully understand our policy on alcohol, tobacco use and gaming?
Complete contact information including cell phone # and email
Event: location
Event: date and start time
Anticipated audience, attendance and revenue
Type of activity / event
Fundraising FAQ's Download Fundraising Toolkit Download Fundraising Agreement
Car Donation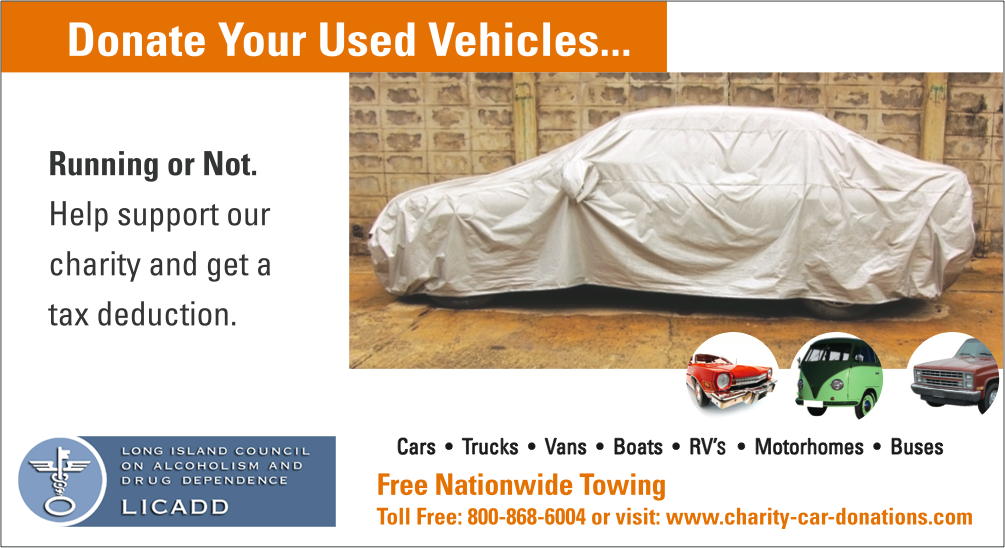 HELP SUPPORT the Long Island Council on Alcoholism and Drug Dependence, Inc.
Full Book Value | Any Make, Model or Condition | Full IRS Deduction | Free Pick-Up